Bay Plastics Machinery Team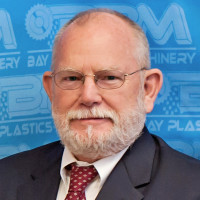 Anthony Forgash
CEO
Anthony Forgash began working in the pelletizing business in 1961, when he joined his father, Anthony Sr., at JETRO, Inc. He was a founding member of Bay Plastics Machinery, which split from Conair JETRO in 1997. Since then, Anthony has worked to provide customers with the highest degree of quality and commitment possible.
As CEO of BPM, Anthony initiates and designs projects, works in the financial sector, and manages long term goals of the company. Anthony's favorite part of his job is working in machine design, bringing the latest and greatest models to production.
According to Anthony, customers should pick BPM over the competitors because "we build better quality machines, we provide better service after sales, and we offer a more personalized experience tailored to each customer's desires."
When he has free time, Anthony spends it and with his family, playing golf, fishing, or traveling,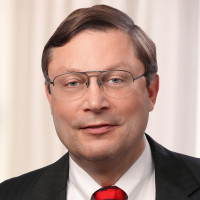 Gordon R. Lewis
Chairman of the Board and Director
Gordon R. Lewis, Chairman of the Board and Director, has been with Bay Plastics Machinery since 1997.
He has a bachelor's degree in Environmental Science from Michigan State University, and received a juris doctorate degree from the University of Michigan in 1974.
Before joining BPM, Gordon was a lawyer for corporate, securities and financial institutions. He has received numerous awards for his work, including being named to the Best Lawyers in America list and being listed in Who's Who in American Law, as well as being named MiBiz's "Dealmaker of the Year" in 2014.
In his spare time, Gordon enjoys fishing, hunting and golf.
JASON FORGASH
President and COO
Jason Forgash has been with Bay Plastics Machinery since 2005. He holds a bachelor's degree in Marketing & Sales from Ferris State University. Before joining the team at BPM, Jason was a regional sales manager at UBE Machinery from 1996-2005, and a sales representative with Value System Inc. from 1992-96.
At BPM, Jason manages the day-to-day operations of the company. He brings together the different heads of each department to keep operations running seamlessly, and makes financial decisions. Jason's favorite part of his job is watching trends to make predictions about future business directions.
At BPM, "we pride ourselves on customer satisfaction, and our goal is to always exceed the customers' expectations," Jason said.
"We pledge to continue to offer products and services, and to continue to develop new products that exceed our customers' expectations with regard to reliability, serviceability, and at a competitive price."
Jason, in his time away from managerial duties, enjoys spending time with his family. He also is a volunteer coach for the Bay County Roadrunners youth wrestling team, and is an avid hunter and fisherman.
Dick Fetter
Vice President of Technical Development
Dick Fetter has worked at Bay Plastics Machinery since 1997. He brought 17 years of experience to BPM in the manufacturing of plastic auxiliary machinery.
At BPM, Dick is involved with a large array of responsibilities in the sectors of technical design and management. A couple of his duties include cross-referencing sales and engineering information to determine the most accurate price quote possible for customers, as well as ensuring machine designs are correct and will result in the most efficient products possible.  His favorite part of his job is interacting with customers to determine and develop processes for design and manufacturing, and he pledges to always give BPM customers 110% effort.
According to Dick, BPM is superior to the competition due to "our commitment to quality in both product and service, our experience, our dedication, and because each individual machines is developed and manufactured in the U.S."
Dick's hobbies include golfing and fishing, and he is a self-described "craft beer nut."
Jeff Forgash
Vice President of Sales, Parts and Service
Jeff is the Vice President of Sales and the Vice President of Parts and Services here at Bay Plastics Machinery. He graduated from Central Michigan University with a bachelor's degree in business.
Jeff brought a wealth of experience to BPM, including nearly a decade at Conair JETRO, eight years at Conair Franklin, nine years as a plastics equipment sales representative, and five years as a Conair regional sales manager.
At BPM, Jeff is in involved with the sales and purchasing of parts and services, as well as technical aspects of keeping the business running efficiently. His favorite part of working here is the interactions he has with all of the customers.
BPM is your choice for plastic pelletizing equipment because, according to Jeff, "our quality of equipment, our commitment to customer service, and our substantial technical knowledge lead to our outstanding products."
In his free time, Jeff enjoys golfing, fishing, hunting, and spending time with his family.
James Forgash
Vice President of Sales
Jim Forgash, Vice President of Sales, has been with Bay Plastics Machinery since 2011. The BPM co-owner has a bachelor's degree in Marketing & Sales from Ferris State University. He brings more than 20 years of sales and sales management experience in the plastics industry to BPM, with previous positions at EMI Corporation, Milacron, A.L. Belrose, and Conair Group.
Jim's ability to communicate ideas and build relationships based on trust and good work ethic has proven invaluable to BPM customers. He enjoys working with customers to find out their specific needs, and build customized systems for them.
"We truly work with our customers to build a long-term relationship," Jim said.
When he is not working, Jim enjoys outdoor activities, like hunting, fishing, and hiking. He is a former wrestler, and now coaches local youth and high school teams. First and foremost, though, he is a family man; "I have three beautiful daughters that are everything to me," he said.
BPM takes pride in being a family-owned and family-operated company that produces the highest quality products available, and that's especially important to Jim.
"We feel that every piece of equipment we produce is a reflection on our family," he said. "We will do everything we can to continue for a strong third generation."
A.G. Fath
Vice President of Manufacturing
A.G. Fath, Vice President of Manufacturing, has worked at BPM since 2013.  He holds a bachelor's degree in Business Administration and an associate's degree in Plastics Engineering Technology from Ferris State University.   He also holds various certifications in quality engineering and quality management from the American Society for Quality.
Prior to joining BPM, A.G. spent over 20 years in Tier 1 automotive component supply. He brings a vast amount of manufacturing experience from positions at Prince Corporation, Johnson Controls, and Key Plastics.
"BPM is truly a customer-focused company that strives to design and manufacture a quality product that creates value for the customer," A.G. said. "Making our customer's success paramount will in turn make us successful."
When not at work, A.G. enjoys traveling and spending time with his family.